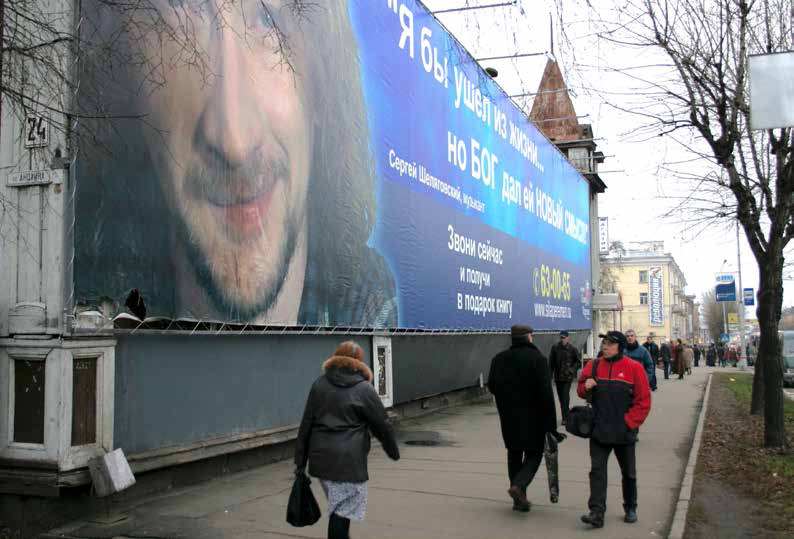 Mega City Media Campaigns
It's all about the Great Commission
GCM Ministries has, together with thousands of local churches, conducted more than 100 city-wide, high-intensity mega city media campaigns. Included in these campaigns are cities in Russia, India, Ukraine, Israel, Iraq, Palestinian territories, Nepal, Kazakhstan, Kyrgyzstan, Uzbekistan, Finland, and Guyana. The campaigns have reached over 250 million people with hundreds of thousands responding to the Gospel message.
Read selected reports from some of our past evangelistic mega city campaigns here.
By television and radio, seen and heard in other cities, we have presented the Gospel to millions of people. Through the campaigns so far over two million high-quality evangelistic campaign books have been given out to people searching for the power to change their life. The 100-page book details the way of salvation, including the first steps of the one's journey of faith. It is tailor-made for each city and consists of the best life-changing testimonies from each city.
GCM Ministries' mega city campaign results in 2003-2019:
held in more than 100 cities in Russia, Central Asia, Ukraine, Nepal, India, Kazakhstan, Kyrgyzstan, Uzbekistan, Finland, Guyana, Cuba, South America, Iraq, Lebanon, Palestinian territories as well as Israel
an estimated 245 million people have been contacted with the campaign message
more than two million unique evangelistic campaign books have been distributed
over 500,000 people have been in contact with our call centres and churches
countless thousands of people have been saved and become church members
follow-up ministry continues to thousands of people
many suicidal people have been saved, drug addicts have been freed of substance abuse, broken families have been healed and reconciled, etc.
Mega city campaigns in a nutshell:
cover the entire city for a period of one month
daily, through various media, local Christians give testimony to the power to change which God has done in their lives
TV programs in the evening during prime-time, on popular TV channels
radio programs, websites, outdoor billboards, advertisements on public transportation, brochures, magazine ads and articles, outdoor mega TV screens and special events
24/7 counselling call/center
local Christians make personal contact with city residents, who are easier to approach because the city campaign is part of their daily conversations
tens of thousands of special evangelistic campaign books with impressive testimonies from believers, the first steps of salvation and guidance to new Christians
church members personally provide the book to those who request it
humanitarian aid to child prisoners and to children's (state-run) foster homes
the all-important follow-up ministry continues with contacting people who need it for years to come
Read selected reports from some of our past evangelistic mega city campaigns here.