BE A PART OF A HISTORIC MOVEMENT OF GOD
Mongolia Mega City Media Campaign
Every $1 that you invest in this campaign will reach 8 Mongolians 
with a saturation of The Gospel for 30 days
"Look at the nations and watch— and be utterly amazed. For I am going to do something in your days that you would not believe, even if you were told."
HABAKKUK 1:5
Since 2003, Great Commission Media Ministries has been blanketing entire cities with the Gospel of Jesus Christ, using all available media for a high-impact 30-day campaign.
This proven model has been executed 109 times these past 20 years, and this October, Mongolia is next!
What is a Mega City Campaign?
According to freedomhouse.org, watchdogs of freedom and democracy around the globe, Mongolia received a Global Freedom Score of 84/100 for the year 2023.
Wedged between Russia and China, Mongolia relies on each superpower neighbour's unwillingness to antagonize the other to preserve its borders and national sovereignty.
She is uniquely situated to pulsate the light of The Gospel to the people trapped within empires and world orders that would seek to snuff it out.
The Gospel knows no borders. This October, you can help bring it to the very heart of the autocratic world in the Asia-Pacific!
Like the New Testament Church, you can be a part of a historical movement of God, providing witness of The Gospel to Mongolia, with the hopes of spreading it into Russia and China, and to the ends of the earth.
Reach 200 hard-to-reach sons and daughters of God in Mongolia for only $25
God has been preparing the people of Mongolia for an outpouring of His spirit and the time in now.
Having survived 70 years of state-sponsored atheism under the Soviet regime (1921-1990), the first generation that emerged after the fall of the Soviet Union understandably reverted to their religious roots, namely Mahayana Buddhism and Shamanism. But there's something that you need to know: The modern Church in Mongolia is only 30 years old, and it needs your help.
The birth of the modern church in Mongolia
Shortly after the democratic revolution in 1990, a group of Christian Native Americans visited Mongolia as tourists. Native American indigenous religious practices are similar to Mongolian Shamanism. This opened a door for them to share The Gospel.
On June 10th, 1990, 2 Mongolians were baptized.
10 months later another mission team arrived. 34 Mongolians were baptized. The event was filmed by a Mongolian reporter. By August, the number of Christians had grown to 70 and by Christmas there were 200 born-again believers. According to their most recent national census 70,000 Mongolians identified as Christian with 40,000 identifying as evangelical.
Help the Mongolian church grow
Campaign director, Boloroo, shares her story… a common one in Mongolia:
"My father and mother raised us to be Buddhists. In fact, my father was a lama.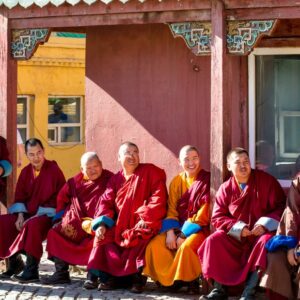 In Mongolia, the word "lama" has a different meaning than it has in Tibet. It refers to any member of the monastic assembly, irrespective of their level of spiritual attainment or their rank in the monastic hierarchy.
The part about Buddhism that always scared me was reincarnation. I was terrified of getting trapped into a cycle of rebirths that got worse and worse based on my previous life's accomplishments. I might not even be reborn as a human.When I first started learning about Jesus and Christianity, I was most attracted to the idea of one life, one death and one resurrection… and that God was actually a loving God and wasn't looking to punish me for the deeds of my life… like reincarnation does.
That's what led me to become a Christian.
The greatest sadness that I have in my life now is that my mom and dad were already dead before I became a Christian. I didn't have a chance to share Jesus with them.
I know my dad… he was a naturally religious person… the only reason that he picked Buddhism is that, at the time, there were no other options. It was Buddhism or nothing. I know that he would have been a Christian… if only he had ever heard The Gospel.
That's why I've become a pastor. That's also why I have volunteered to lead the local church media campaign team… I know that there are MANY Buddhists in my country who are only Buddhists because they don't know of any other choice… They are just like my father."
I can't think of a better way to share the saving message of Jesus Christ and God's love to all of Mongolia than through this media campaign in October… my people are desperate for this.
Join our campaign this October, and reach the unreached of Mongolia on a scale never seen before and deploy them immediately into the global mission field. The local church is ready to reap a historic harvest.
Reach the unreached of Mongolia
To donate now, call our office: 1-877-244-7618 or click the DONATE NOW button to give through our secure online donation page.
Thank you for your prayers and support for Mongolia.