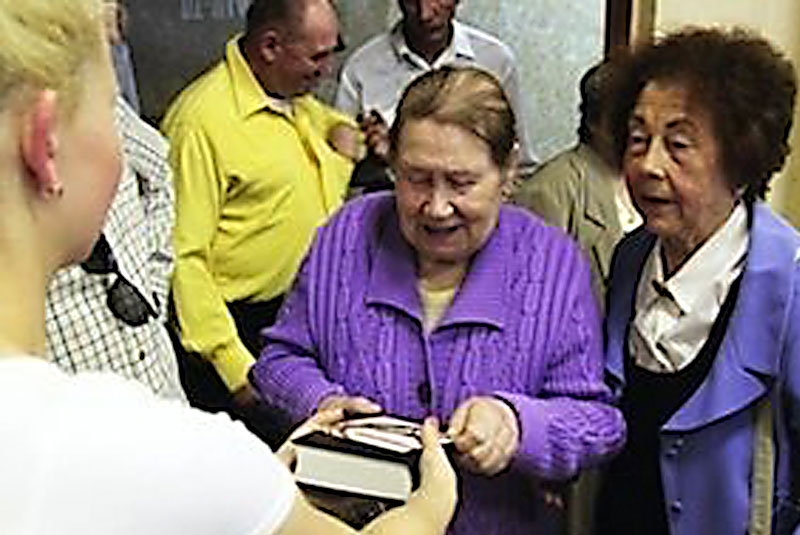 Winds of Change; Warning for Russia's Churches: WE MUST PREPARE FOR TRIBULATION
Center for Law And Justice Warning for Russia's Churches:
WE MUST PREPARE FOR TRIBULATION
Difficult Times Ahead for Russia's Churches
"It is necessary for us to issue a warning to the churches of Russia that difficult times lay ahead," warned senior legal expert Anatoly Pchelintev of The Slavic Center For Law and Justice in Moscow during a live Internet seminar in August. The warning was sent out in a written statement by the same legal agency. The warning, published on August 8th, reads as follows: "Regretfully, as The Slavic Center For Law and Justice has already warned, the judicial authority (of Russia) with practical certainty will apply the new law against the rights of believers in Russia as outlined in the articles of the law dealing with freedom of conscience, freedom of religion and religious organizations, added to legislation No.195-F3 article 5.26, of the Russian Federation on December 31, 2001." (Read THE LAW SUMMARIZED here)
Sadly, this warning had been anticipated.
We have no choice but to stand firm in our convictions and to defend our constitutional rights to the end demanding compliance to the law by the legal authori/ties as prescribed by authors of the law.
Churches Take Time Out
Both the Russian Baptist and Pentecostal denominations have thousands of member churches in their ranks. The overwhelming majority of these churches do not meet in registered Houses of Worship. Their current facilities cannot be registered as such, despite the effort by thousands of churches to do so. To complicate things further, the Russian government has not granted the sale of land to evangelical churches, nor has it granted building permits for church buildings.
In one example of how seriously the new law is viewed, the Pentecostal Union has issued an alert to over 2,000 of its churches instructing them to temporarily suspend all domestic missions activity until their own legal experts have carried out consultation with the leadership.
The new law prohibits the sharing of the Gospel with non-believers. This is in direct conflict with the Great Commission of Jesus Christ, the head of the Church. According to Jesus the number one task of the church, as stated in all four Gospels and in the Acts of the Apostles, was to go into all the world and preach the Gospel to all nations and to make disciples of Jesus.
The new law makes it illegal to simply talk to a non-believer in an attempt to persuade him to receive Jesus. Jesus, however, tells us to proclaim the Good News to the world. This, then, is the point of the contention for over 7,000 evangelical churches in Russia–to do what the government says or to do what Jesus says.
We Must Work While it is Yet Day
Great Commission Media Ministries has been asked to print 500,000 New Testaments and 300,000 Bibles as soon as possible. With the donations to date, we have been able to print 300,000 New Testments and 150,000 Bibles plus one million copies of the Gospel of John. The immediate need is to print an additional 200,000 New Testaments and 150,000 Bibles.
For years we worked with thousands of churches in Russia to reach almost 70 million people with the Gospel through historic mega city media saturation campaigns.
That era came to an end in 2012.
Not knowing that Russia would soon close the door to evangelism, the Holy Spirit urged us to respond to requests from Russia church leaders to supply them with 5 million copies of the same evangelistic books that we had tailor-made and used in 40 major cities of Russia. We did respond. That was three years ago.
During the three years since, over 2 million Russians have prayed the prayer of salvation, one-on-one with evangelistic teams using these books. According to documented statistics, over 20,000 Russian townships and villages were reached, and over 1,200 new churches were planted.
Now, the doors are closing. As a result, 145 million Russians will be deprived of the chance to freely hear the Good News of God's love, that Jesus came to die on a cross their sins. In the days to come, believers in Russia will pay a big price to defy the new law in order to share their testimony for Jesus.
We need to respond once again.
GCM Ministries needs your help to give all possible assistance to our brothers and sisters in Russia.
Again, the immediate need is to print an additional 200,000 New Testaments (costing about $1 each) and 150,000 Bibles (costing about $3 each).
Thank you for caring and for helping. May the Lord give you added strength, joy, and favor in your daily walk with him.
You can donate online now to this urgent need. Visit our website for secure online donations.