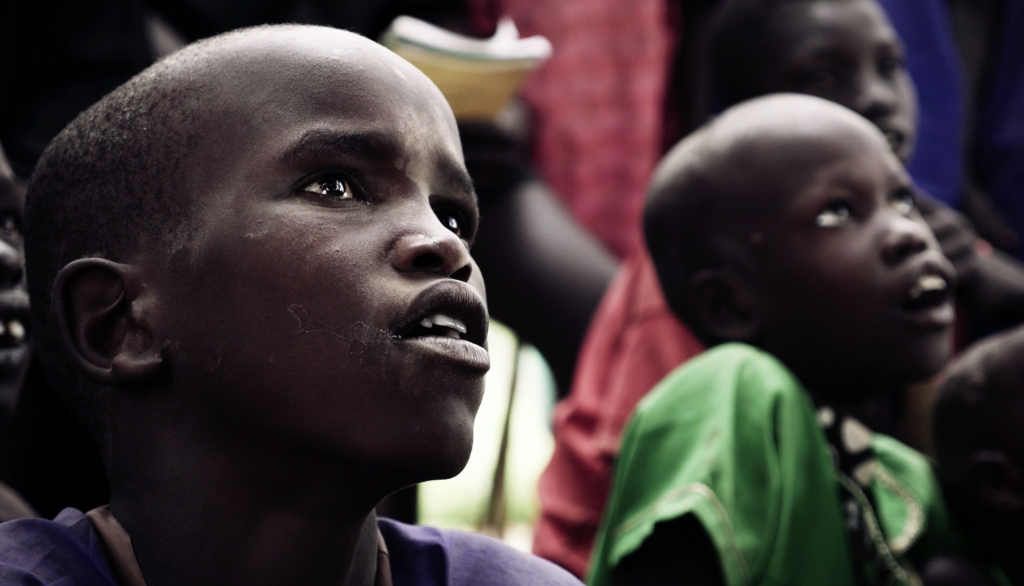 SOUTH SUDAN Set To Experience Unprecedented Media Campaign
Things are bad in Sudan. On our recent visit there we heard the account of a single night of violence that resulted in eleven thousand bodies laying in the streets of the capital, Juba. No one seemed to know what had caused the mass killing. Uncontrolled tribal warfare was ravaging South Sudan.
In 2011-12, the new independent Sudan saw a sweeping spiritual revival. Within a few years the Pentecostal Movement grew from 500 members to a hundred thousand members. 
But today the nation is falling into an abyss of bitterness, hatred, revenge, mistrust, violence.
Local Christians have worked tirelessly for peace. Mercy Lumago, South Sudan Council of Churches secretary, tells us that Christian mothers, women take to the streets of Juba to pray for peace, often laying prostrate on the ground calling out to God aloud. They crave peace.  "We want the whole world to hear our cry. No one else can bring peace to our nation. It must be us, it must come about in us.
We want the Word of God to reach all the women of South Sudan and to bring them together."  
DESPERATE SITUATION
The 50-year civil war has left a huge mark on Sudan. Over two million Sudanese have died and millions have had to flee for their lives. The largest refugee camp is located in Northern Uganda, with a swollen refugee population of more than one million.  Juba itself used to be a city with a population of 4 to 5 million. Roughly one million people remain there.
The majority of these refugees are children and women, as well as many elderly people.  
The United Nations is trying its best to bring in food, clothing, education to Juba and villages across the country, but delivering aid to such large numbers of people is often a logistical nightmare. 
The situation is desperate, says Bishop Isaiah Majok of the Central Council of the Pentecostals of South Sudan. South Sudan has also been plagued by famine and starvation. In addition to the lack of food, there is also a shortage of medical supplies, shelter, education and healthcare.  
"People are desperate for peace today. When there is war, famine and instability grow exponentially. We strive to promote peace, seeking to help people coexist with each other."  
The council of churches has set up a neutral forum in social media for this purpose.  
A CHANGED HEART BRINGS PEACE 
Together with GCMM we are planning a mega city campaign in 2018, in the capital city, Juba. The campaign would be conducted in Sudanese Arabic and English.  A powerful message of forgiveness and reconciliation will be transmitted through various media, including social media. Bishop Dow says that many Sudanese have used social media such as Facebook, especially for negative purposes, to instigate violence. Facebook is awash with calls for revenge and violence.
Great Commission Media Ministries is in South Sudan to further prepare churches for this extensive, unprecedented  outreach in November. In order to reach the 60% of South Sudanese people who cannot read or write, 20,000 palm size playback units called "MegaVoice" are needed.
The units are solar powered, pre-recorded and non-erasable. At the push of a button they will play back the Gospel of John, 10-15 powerful South Sudanese transformation stories, the road map to new life in Jesus, the best Arabic gospel songs, plus the best Bible stories for children—in South Sudanese Arabic and in two major tribal languages.
The price on one unit is $20USD or $25 CAD. One unit will reach a small village. Imagine, a gift of $20-$25 can take the story of Jesus' love to a whole village and change lives, young and old, forever. Would you consider making it possible that one or perhaps several villages will hear the Gospel of Jesus this year?
The Church council aims to reach scattered Sudanese communities and guide them to use social media constructively. "We have sought to find a model by which the flood of negative communication on social media might be transformed into a "river of peace." 
Only a change of heart will do. If the heart is full of sin and violence, then peace cannot happen between people. First there must be peace with God. Only then can there be peace between people. When the hearts of people change, their message also changes.
THE POWER OF FORGIVENESS
In South Sudan, the Sudanese version of the GCMM campaign book will contain high-impact stories of change by God's grace in people's lives. Bishop Isaiah Majok too has experienced the power of forgiveness. He lost his parents, three brothers and several cousins as a result of tribal war. This resulted in 20 years of animosity toward the Arabs in the former Sudan.  
"I understood that God would forgive us only as we forgive those who have sinned against us. I wrestled with this truth for a long time. Finally, I let go and forgave those who had so deeply hurt me. 
If we do not forgive others for their sake, then we must do it for our own sake. If you cause me to hate you and I drink a jar of poison, it will hurt me, not you. Bitterness does not kill your enemy, but it will kill you." 
Mercy Lumago believes that the GCMM mega city campaign will have a major impact on South Sudan.  
"I believe that the campaign can bring about much change."