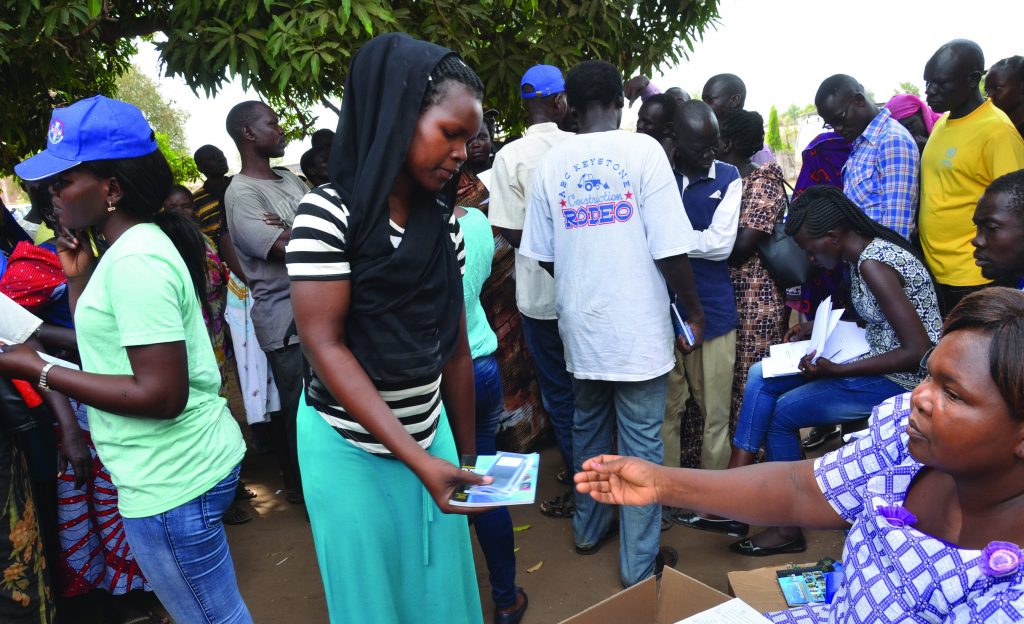 SOUTH SUDAN Unprecedented Media Campaign Exceeds Expectations
The much anticipated, unprecedented evangelistic media saturation campaign in Juba and rural areas of South Sudan commenced November 1, 2018 with response to our call center exceeding our expectations.
Billboards are up throughout the city, declaring "God's power for forgiveness and reconciliation."
The powerful Sudanese transformation stories are on air over three radio stations, including Sudan national radio. The same stories are on Sudan State TV, Channel 1, prime time at 9.00 pm, every night! This is a miracle!
Millions of South Sudanese will be watching and listening to these transformation stories throughout November. Additionally, we have talk shows on both radio and television with a time for questions and answers to those who have lost husbands, wives, sons, whole families in the civil war.
Campaign faces some challenges
At the call center, we are seeing shocking but spectacular results. All phones are ringing nonstop—way over capacity. This is resulting in the phone system freezing on us. Unfortunately we have missed thousands of calls on most days. The good news is that most of the numbers have been retained on the server of the provider. The incoming calls have surpassed all expectations,  and capacity at the call center. We are working on this problem.
There is a 5 pm curfew that all people must abide by. Our staff and volunteers need to return home at that time for fear of their safety. We are working on solutions to overcome this and look forward to a successful campaign. People are being reached with the gospel message like never before in South  Sudan.
Mega Voice Audio Playback units will make a huge impact in South Sudan
The campaign is conducted in Sudanese Arabic and English.  A powerful message of forgiveness and reconciliation is highly visible through various media, including social media.
The units are solar powered, pre-recorded and non-erasable. At the push of a button they will play back the Gospel of John, 10-15 powerful South Sudanese transformation stories, the road map to new life in Jesus, the best Arabic gospel songs, plus the best Bible stories for children—in South Sudanese Arabic and in two major tribal languages.
The price on one unit is $20USD or $25 CAD. One unit will reach a small village. Imagine, a gift of $20-$25 can take the story of Jesus' love to a whole village and change lives, young and old, forever. Would you consider making it possible that one or perhaps several villages will hear the Gospel of Jesus this year?
The Church council aims to reach scattered Sudanese communities and guide them to use social media constructively. "We have sought to find a model by which the flood of negative communication on social media might be transformed into a "river of peace." 
Only a change of heart will do. If the heart is full of sin and violence, then peace cannot happen between people. First there must be peace with God. Only then can there be peace between people. When the hearts of people change, their message also changes.
THE POWER OF FORGIVENESS
In South Sudan, the Sudanese version of the GCMM campaign book contains high-impact stories of change by God's grace in people's lives. Bishop Isaiah Majok too has experienced the power of forgiveness. He lost his parents, three brothers and several cousins as a result of tribal war. This resulted in 20 years of animosity toward the Arabs in the former Sudan.  
"I understood that God would forgive us only as we forgive those who have sinned against us. I wrestled with this truth for a long time. Finally, I let go and forgave those who had so deeply hurt me. 
If we do not forgive others for their sake, then we must do it for our own sake. If you cause me to hate you and I drink a jar of poison, it will hurt me, not you. Bitterness does not kill your enemy, but it will kill you." 
Mercy Lumago believes that the GCMM mega city campaign will have a major impact on South Sudan.  
"I believe that the campaign can bring about much change."
HARVEST TIME
The 25,000 books we printed and the 20,000 mega voice digital audio players purchased will not be enough. The campaign chairman who is chairman of the Council of Churches of South Sudan as well has begged us to extend the campaign until Christmas. We will do so. It is harvest time in South Sudan.