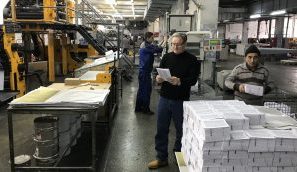 RUSSIA: 200,000 New Testaments Urgently Needed In East Russia
UNEXPECTED DOOR OF OPPORTUNITY OPENS FOR RUSSIA'S CHURCHES
This July at Great Commission Media Ministries is as busy as ever. We continue to print evangelistic literature inside the borders of Russia. On behalf of over 1,000 churches across Russia, thank you for your continued support of this precious literature ministry.
Together with you we've witnessed more than one miracle. This past winter we printed almost a million copies the New Testament, the Gospel of John and evangelistic campaign books at central Siberian printing facility.
That may sound like a lot of books but Russia is a huge country with over 144 million people. The need is great despite the Russian government surveillance of  Church activity. It is truly a miracle that we can continue to print Scripture and evangelistic literature within the country.
This spring we received a further urgent plea for more books from Eastern Siberian churches. The regions concerned are Yakutsk Oblast (see map below), Irkutsk Oblast, Chukotka Autonomous Okrug as well as the Buryat Autonomous Republic. These regions remain the least evangelized areas in Russia.
The maps below show the size of the area.
Churches, house churches and prayer groups lack the necessary tools for evangelism.
Outside these target areas some of the literature will be distributed in the cities of Moscow, St. Petersburg and Tver.
At GCM Ministries we do not have a regular reserve of funds for the projects we do, be it in Asia, Africa, Israel, Russia, the Middle East, Europe. We depend on you our ministry partners. From the very beginning the Great  Commission of Jesus was oversize for the disciples. Without God it was not possible to fulfill. So it is today.
But Jesus promised his followers that He would be with everyone he sends into his harvest.
Without the Lord and the GCMM family of friends, supporters we would not have reached over 100 million people in over 100 major cities in 15 years, many mega cities like Mumbai, coworking with thousands of local churches.
"Isn't God amazing! His amazing power, His amazing grace" so says a gospel song I listened to recently. The song says it all!
By faith again, as we have done so many times before, we have ordered  50 thousand books. We believe we can increase this order by this fall.
Help us to distribute New Testaments to Russian families. Donate online now.

GCM Ministries founders Laura and Hannu Haukka have ministered in Russia and the Soviet Union for 40 years. Laura was born in Soviet Russia.
Over the past 3 years GCM Ministries has supplied over 4,000 churches in Russia with superb evangelistic tools: 4 million copies of the GCM Ministries book called "Experiencing the Power to Change." Using this tool, these same churches have planted 1,000 churches across Russia. Additionally, GCM Ministries has printed and delivered 100,000 Bibles for use in these newly planted churches.