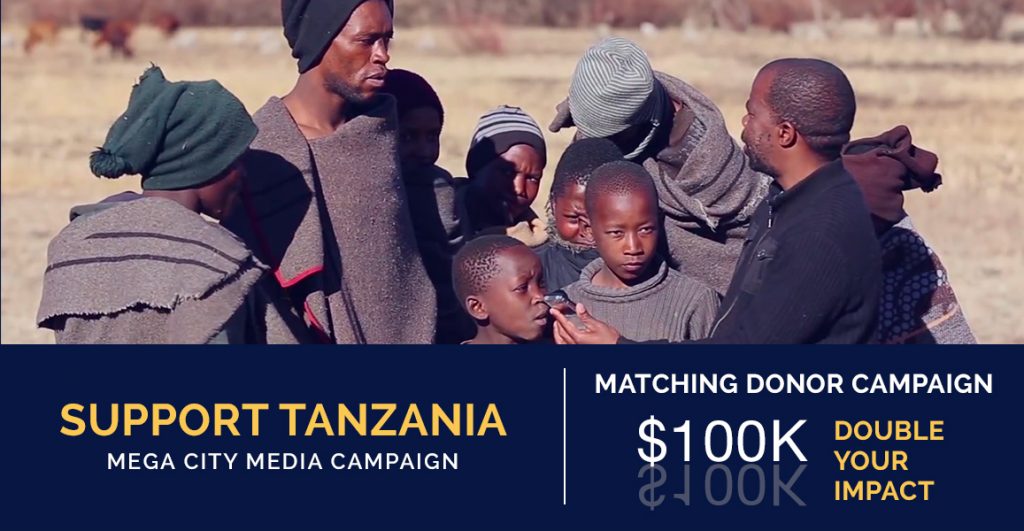 URGENT Prayer and Financial Support needed now to launch our campaigns
We have an urgent need for partners to come alongside Great Commission Media Ministries in both prayer and financial support – and we request your help.
Four urgent campaigns need the remaining prayer and financial completion to be fully supported. Will you support one of these campaigns below:
Tanzania – A Mega City Media Campaign in October 2019
Now that the campaign is complete, we need to print extra evangelistic books to handout. Our director has reported 30,000 booklets were not enough, and another 70,000 booklets are needed to fulfill all the calls that came in during the month campaign.. Each dollar is MAXIMIZED to present the campaign message of "Calling our call center" to get a free Power to Change booklet – complete with life transformation stories and an evangelistic message. Our campaign budget has been an incredibly low cost for saturating some of the major cities of Tanzania for 30 days. Remaining budget needed: $100,000 to print and distribute the remaining booklets.
Ukraine – A Mega City Media Campaign in November 2019
The Ukraine border region is in desperate need of the peace of the Gospel. There has been ongoing border wars with Russian for many months now, and this campaign is meant to reach this area. We expect posters, billboards, newspapers, and even radio to reach not only the citizens that have been affected in these areas, but likely even some of the fighters! We are partnering with many churches along this border who have a heart for bringing the Forgiveness that only the Gospel brings and are in need of the remaining funding for the booklets, and media purchases to make people aware of these transformation stories. Our budget of $300,000 gets our 30 day campaign to run across media all the way across this 400 mile area!
Mongolia – A Mega City Media Campaign in Spring 2020
For the first time ever, GCMM is going into Mongolia having been invited by the local churches. Their desire is to have a media campaign reach a large swath of the country – showing how your life can be changed. Transformation stories of local people will be illustrated in both billboards, newspaper, posters, and other media – asking people to contact the number listed to receive a free book about these life transformation stories. Because of the high conversion rate of the dollar, our $250,000 budget allows us to print thousands of color books and access media far beyond what we could buy in any other country.
Middle East – Christian Satellite TV Broadcasts
This production of 1,000 evangelistic programs is in 5 languages per year. All programs are produced in our Finland studios by believers who are Arab, Somali, South Sudanese, and Ethiopians. The cost of the production of one program, on average costs $1,300. Research has shown that there are over 100 million viewers in an area from Morocco in West Africa all the way to the border of Pakistan in South Asia, 1.5 billion Muslims. To understand the magnitude of this, imagine one third of the population of the United States (30% = 100 million) watching these programs regularly. Our $110,000 budget per month pays for the air time on the 16 satellites that are currently blanketing the middle east!
May God Bless you as you support us in prayer that God would bring the final funding to accomplish these campaigns and would bless the fruitfulness of the outreach!