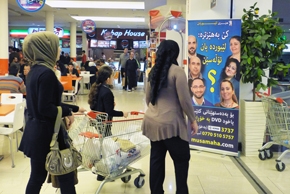 Media Campaign in the Heart of Islam
In February, 2013 GCM Ministries conducted a very suspenseful and most unlikely mega city media campaign, one that many thought should never have been. It took place in the heart of the Islamic world. The Northern Iraq campaign in Erbil shattered every preconception we had and sent shock waves from Afghanistan to Morocco. For 30 days non-stop, using the firepower of media combined with the efforts of the fledgling churches of Erbil, we proclaimed the message of God's love: that God gives men the power to forgive and to be reconciled with God.
60 million watch live concert
Syria Television called the campaign office wanting to do a report on the Erbil "Power to Forgive campaign." Islamic Kurdistan TV interviewed our campaign managers on State TV for 30 minutes together with Islamic clerics. For three consecutive nights SAT7 broadcast the closing concerts live throughout the Middle East to 60 million viewers triggering response from over 1,200 cities. Josh McDowell was one of the invited guest speakers. We are praising God for:
• Over 38,000 unique visitors to the website;
• Over 29 million "impressions" (clicks) logged by counters on our Facebook sites (Google analytics);
• Erbil, Suleymaniyah, and Baghdad topping the list of cities responding;
• SAT7 is to air the concerts in Arabic to over 200 million viewers over a thirty-day period;
• Thousands of Power to Forgive books and DVD's have been distributed in Iraq in both Arabic and Kurdish;
• The campaign message was proclaimed on billboards, outdoor ads, buses, TV ads, radio ads, the Internet, YouTube, and social media.
Healing message
The campaign was clearly a healing ointment in a land torn by hatred, revenge, bitterness, hurt, and hopelessness. Arab and Kurdish Muslims by the thousands called in to order the book. Others ordered it by E-mail and the website. Among those responding were government officials, the President's family members, pilots, teachers, doctors, and psychiatrists.
Although the security forces gave a green light and provided security, there was plenty of room for apprehension in this very Islamic nation. No one knew who would be on the receiving end of a campaign book when the couriers were sent out to deliver the books. But the Lord of the Harvest was our protection and fortress.
The eager response continues
Volunteers and campaign staff are still overwhelmed by the task of responding to all who responded and asked for one-on-one counseling. Even some members of extremist Islamic families are receiving counseling in secret out of fear for their lives.
"This campaign has opened doors we had never dreamed of," says Maher, our campaign leader in Erbil. "This is truly historic in the Islamic world." Incredibly, people hundreds of miles away in cities like Baghdad and Suleymaniah are being counseled by local believers as a result of what is happening in Erbil.
As a result of the campaign, we have received requests from Baghdad and Beirut, Lebanon to consider doing similar campaigns there. Pastor Farouk says his vision is to reach the whole of Iraq, sensing that this is the desire the Lord has for his nation. So we move forward step by step, prayerfully considering these requests.
Power To Forgive
The original campaign theme, Power to Change, was tweaked for this sensitive region. We used the slogan: Power to Forgive—possible only through Jesus. Forgiveness is sorely needed in this country of hatred, revenge, hostility and bitterness.
In the campaign book people share their story on how God forgave them and gave the power to forgive those who had caused them incomprehensible pain.