Missions Conferences in Russia
GCM Ministries leads annual media missions conferences in Russia and Central Asia that are attended by several thousand Russian pastors, evangelists, church workers. Benefits: renewed vision, new skills, resources, partnerships.
Regional Media Missions Conferences
GCM Ministries has held regional missions conferences in Central Asia, the Caucasus region, Southwestern Russia, Northwestern Russia, Siberia, Russian Far East. Congregations from over 100 cities sent 900 delegates to learn the use of media in evangelism.
School of Broadcast
In recent years almost 100 missionaries have graduated from GCM Ministries Missions School in Moscow. Many now minister in their home cities.
Ministry Partnerships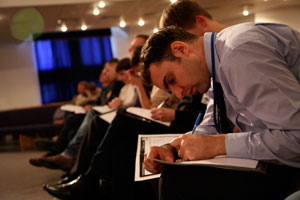 GCM Ministries has co-ventured with Campus Crusade For Christ and the Russian office of the Billy Graham Evangelistic Association in training nationals for ministry. In 2001 GCM Ministries participated in a national BGEA conference on evangelism in Moscow. Over 1000 evangelists attended.
Leadership Training with Willow Creek Association
GCM Ministries partners with Willow Creek Association (WCA) in leadership training in Russia and Central Asia. Thousands of pastors each year receive the best missions training available provided by WCA and GCM Ministries.
Central Asia
In October, 2002 GCM Ministries with ACB Russia established a regional Christian Radio and Television Association in Central Asia.
The Central Asian region is comprised of five nations: Kazakhstan, Kyrgyzstan, Tajikistan, Uzbekistan and Turkmenistan. Their combined population is 58 million. Since the collapse of communism Islam has made strong inroads throughout the region.
Eighty mission workers from Kazakhstan, Kyrgyzstan, Tajikistan and Russia as well as from the Caucasus gathered in the Kazakh city of Almaty for the media missions conference. A ten-strong GCM Ministries team challenged, inspired and taught the delegates about media mission work.
High Level Training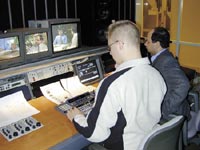 In addition to the regional conference GCM Ministries arranged for Edward McDougal, from Regent University in the United States, to stay on and teach the ABCs of TV work to the eager delegates.
"I have never seen such open and enthusiastic people," said McDougal.
Media missions work is not primarily about using "equipment" but reaching people. This is our focus. This is what Jesus taught us and this is GCM Ministries' task. To guide the people of Central Asia to harvest more of their countrymen for the Kingdom of God.