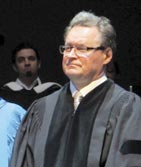 President and Founder of GCM Ministries, Hannu Haukka, Receives Honorary Doctorate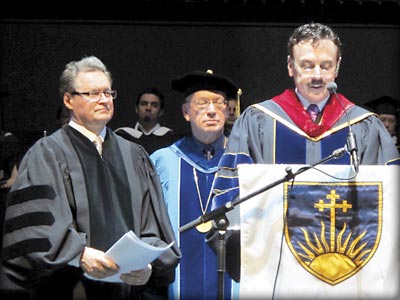 On May 1, 2010, it was a great honor for the board of directors and staff of Great Commission Media Ministries to witness Hannu Haukka receive an honorary doctorate from Trinity Western University, one of the top universities in Canada. Trinity Western University ranks among the top three Canadian universities according to an annual student survey conducted by Maclean's, Canada's only national weekly current affairs magazine.
Dr. Haukka, who is fluent in English, Finnish, Swedish and Russian, has worked tirelessly for 34 years, together with his wife Laura, in fruitful world missions ministry by using pioneering techniques and media technologies. GCM Ministries (then known as IRR/TV) began with outreach to the Soviet Union in the late 1970s. Over the years GCMM has expanded its mission fields to currently include Asia, the Middle East and North Africa along with Russia, Ukraine and other former Soviet states in Central Asia. Christian television programs have been produced in over 50 languages resulting in countless millions of people being reached with the life-changing Gospel of Jesus Christ.
An honorary doctorate is the highest honor bestowed by the University. Honorary degrees are generally awarded to scientists, researchers, and other notable or influential people such as authors and politicians in recognition of outstanding contributions to a specific field or to society in general.